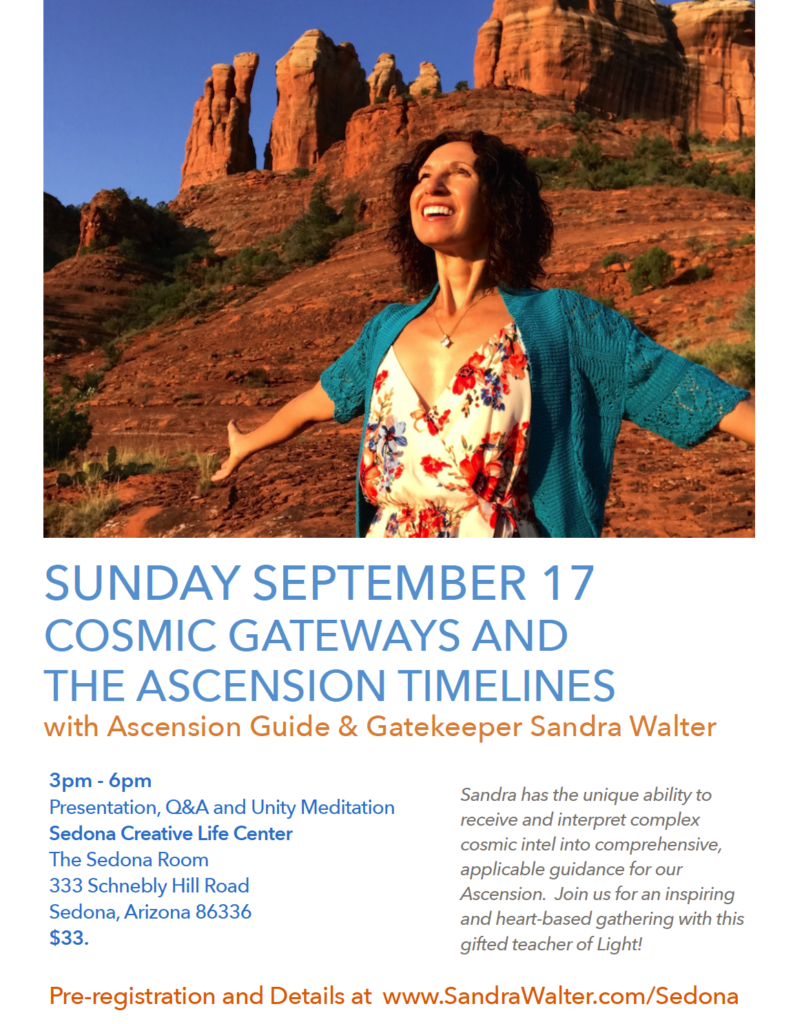 Blessings Beloved Light Tribe ~
Yesterday's uber-activation and X-flare blast raised our Unity Meditations to a whole new level. What an experience!
My Higher Team gave us the heads up on the influx in a morning message (apologies for not having time to send an email, I was just able to post to social media before the meditation focus began). I will write up all of these developments in the next few days.
Sedona Live Event next SUNday, September 17
Gratitude for all of the requests to connect while I AM in Sedona! With the amplifications and upcoming Cosmic Trigger, my Higher Levels encouraged this prime opportunity to gather the Light Tribe.
I found a gorgeous space and created an event, which includes a presentation, open Q&A, and the Global Unity Meditation next SUNday.
All are welcome to join me in this beautiful setting as we enter the powerful Equinox Gateway. It is open to the public, so please register soon as seating is limited.
Cosmic Gateways and the Ascension Timelines with Sandra Walter
Presentation, Q&A and live Global Unity Meditation
When: SUNday, September 17 from 3 – 6 pm MST
Where: Sedona Creative Life Center
The Sedona Room
333 Schnebly Hill Road
Sedona, Arizona 86336
Cost: $33 – Please pre-register via the paypal link below.
In this year of rapidly shifting and splitting timelines, our HUman Heart connection with the Primary Timelines of Ascension present Divine opportunities for spiritual and dimensional evolution. Each Ascension Gateway passage intensifies the Divine Light available for the HUman collective willing to live in resonance with the frequencies of New Earth.
Sandra has the unique ability to receive and interpret complex cosmic intel into comprehensive, applicable guidance for our Ascension. We will discuss the latest Ascension unfoldments, share our Ascension experiences, learn to access the Cosmic Stargates, and prepare ourselves for the powerful September Equinox passage.
SUNday September 17 Schedule
2:45 pm Check-in; Please arrive on time*
3 pm – 4:45 pm Presentation, Q&A, and collective open sharing of Gatekeeping, Gridwork and Ascension experiences
4:45 pm Bio-break and reset the room for our meditation.
5:11 – 5:44pm Guided Global Unity Meditation – Connecting with the Cosmic Stargates
6pm Completion of event
*Bring your crystals, singing bowls and sacred objects for the altar space!
Note: There will be no online access or livestream for this event.

Seating is limited! Purchase your ticket below.
– Enter your name for the guest list.
– No refunds, thank you for supporting this gathering.
– Day-of-event online registrations accepted until 12noon.
– Some tickets may be available for purchase at the door.
Sedona Live Event with Sandra: $33